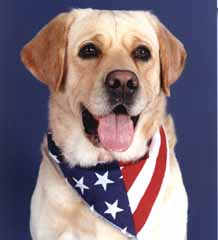 courtesy of Petstar
1.Bring the camera in close
- The closer you can get, the more the pet's personality will shine through in the photograph. Emphasize the animal, not the background.
2.Keep the camera at the animal's eye level
- Pictures taken at high or low angles don't flatter pets and can make them look distorted. Get down on their level for the best shots.
3.Don't photograph a dark pet against a light background
- Dark pets can be especially difficult to photograph. Using a darker background with good lighting will help bring out their features.
4.Choose outfits and props that suit the pet
- Make sure your pet is comfortable wearing clothes or hats or before you spend a fortune! Try different styles to see what flatters them most. People in pet pictures should choose their own outfits to complement the color of the pet's fur, feathers or skin. Stay away from stripes and busy patterns; you want the pet faces to stand out, not the clothes.
5.Don't overwork the animal
- Consider the age and health of your pet before you start. Animals have attention spans too. Your pet will let you know when they have had enough for one day. Pay attention to what your pet is telling you and know when to quit.
6.Don't overheat the animal
- If you are indoors, lower the air temperature before you start. Animals can get hot very quickly. Don't use costumes that will overheat them and don't leave them in a costume for a long time.
7.Use tricks to get attention
- Pets often need tricks and toys to grab their attention, encourage a certain behavior or to get them to look in a particular direction. Use these sparingly, though. Pets get used to toys quickly, so have several on hand.
8.Get a helper
- At Pet Star, we use an animal handler and a photographer. Ask a friend or family member to help position your pet and keep their attention while you snap pictures.
9.Don't sedate the animal
- You want your animals to show expression so we don't advocate the use of drugs or anything else to sedate nervous pets. Praise, positive attention and a few treats will go a long way!
10.Have patience and remain calm
- Faster doesn't mean better. Be ready to work at your pet's pace and remember pets can sense anxiety! If you get aggravated, the pet knows and will respond accordingly. If you're calm and relaxed, your pet will be too.